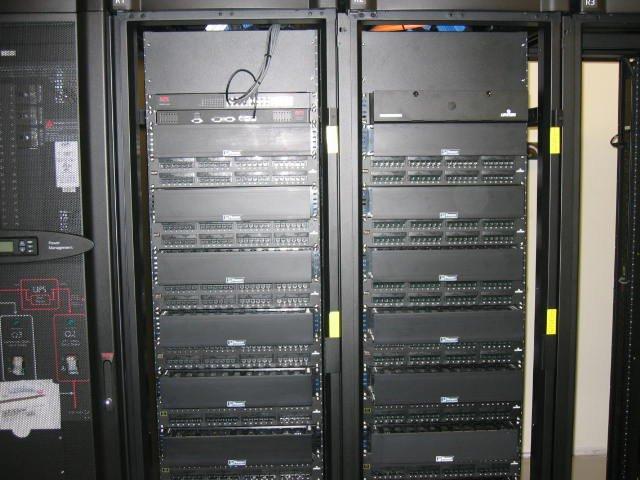 Voice and Data Cabling for Large Businesses
Prime Line helps business large and small with office telephone systems, Polycom video conferencing, LifeSize video conferencing and infrastructure cabling.  Prime Line knows that large businesses have large cabling needs. For 250+ cable runs, connecting multiple buildings in a campus environment, or installing cabling for many branch locations, Prime Line's enterprise cabling offering is recommended. Project management is vitally important on projects of this magnitude. The construction process is closely monitored to make sure that cabling is installed at the proper time. The project manager will coordinate everything from installation of cabling to the color of the faceplates in the wall. Regular update meetings are scheduled with the customer so that they are constantly kept in the loop.
Voice and Data Cabling for Campus Environments
Campus type environments present another level of complexity. In these environments, underground cabling may be installed by trenching, boring, or vibratory plow. Before any work can be completed, all utility companies are contacted and asked to visually mark any infrastructure that they have in the ground in the vicinity of where the new cabling will be installed. This minimizes the risk of damage to any existing infrastructure. Prime Line makes sure to install the proper amount of connectivity between buildings to support current and future growth of the communications network.
Voice and Data: Nationwide Rollout Services
Nationwide rollout services are also offered by Prime Line. These services offer a client with many branch locations the ability to standardize their installations throughout their organization. Each office can look, feel, and operate in the same exact manner from a communications standpoint. A "cookie cutter" rollout ensures that all locations are identical. Prime Line can be your one source to get your branch offices fully up and operational. There is no need to have multiple vendors when Prime Line can handle all your communication needs. Installing cabling for telephones and computers, telephone systems, data networking, and interfacing with dial tone/internet services providers are all included with Prime Line branch rollout solutions.
Contact Prime Line Communications
for all of your voice and data cabling needs
Contact Prime Line Communications for your enterprise infrastructure cabling needs.  Make sure to view our pages on Polycom video conferencing, LifeSize video conferencing and office telephone systems.