AVAYA CHRONICALL FOR AVAYA IP OFFICE™
Making it easy to understand what happens with every call.
Avaya Chronicall for Avaya IP Office™ helps you manage your phone system and business with ease and confidence. Cradle to grave call reporting and tracking is presented through over 50 standard reports. Recording Library provides easy access to recordings within the same reporting interface via IP Office Voicemail Pro integration. Realtime agent seat and Agent Dashboards enhance IP Office hunt groups and deliver visual call management with wallboards and customized agent dashboard displays.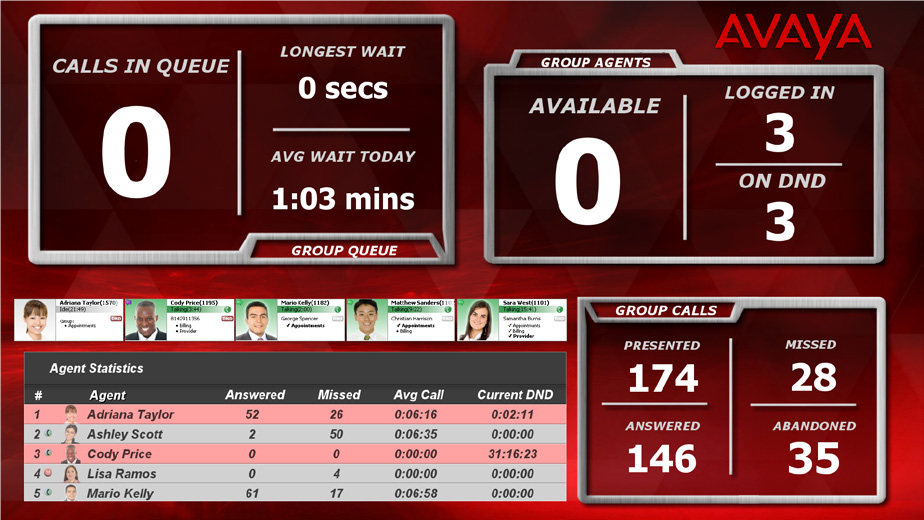 Standard Reports You can't manage what you can't measure. Avaya Chronicall offers over 50 standard reports to create visibility and efficiency. Cradle to grave reporting can validate each inbound, outbound and internal call from start to finish.
Custom Reports With Custom Reports you can create original reports and edit or customize existing reports. Reports can be defined by you, making Avaya Chronicall fit into your business without having to adjust your daily routines. Reports can be tailored and branded to fit your unique business requirements.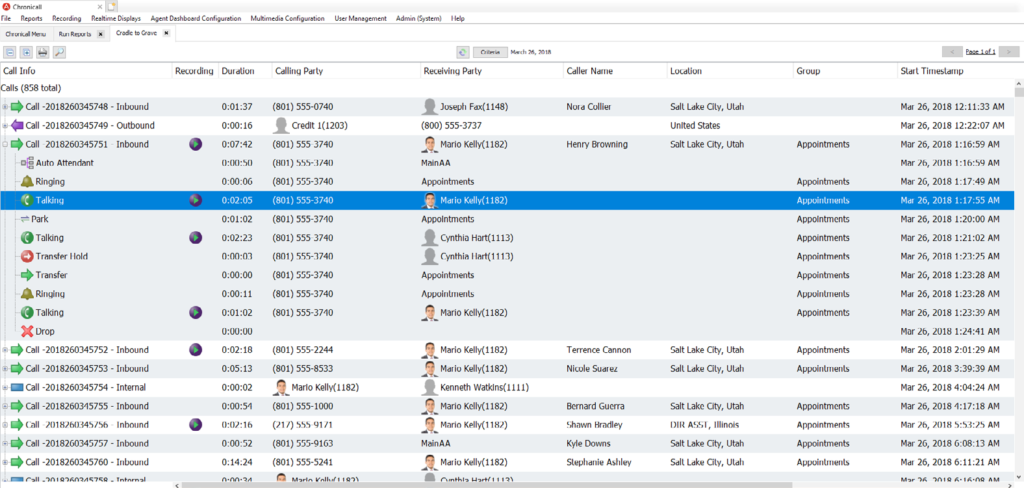 Recording Library Recording Library easily integrates with IP Office Voicemail Pro and Chronicall cradle to grave reporting. Recording Library enables you to evaluate your employees and listen to their specific calls. Customizable retention policies determine how long recordings are kept, and allow storage throughout your network.
Agent Dashboards Agent Dashboards improve agent productivity and visibility through widgets and account / reason codes. Widgets allow agents to govern themselves and add value to their calls. Account codes enable entry of more information about calls, while reason codes enable agents to notify supervisors of their status. Agent Dashboards also easily integrate into URL based CRM's such as Salesforce.
Realtime Realtime enables you to manage your employees in the moment. You can see how many calls are being taken, on hold or missed, along with in progress agent, group or extension calls with wallboards displaying current statistics. Wallboards are easy to implement with pre-built templates and can be customized, including setting alerts and trigger thresholds. 
AVAYA IP Office - Essential Edition Capabilities
Unified Messaging – Retrieve voice messages from the keypad on any phone, through the display on an Avaya 1400 series phone, or via email (voice messages show up just like an email) from a single Inbox for fast and efficient access to information.
One Number Access – Let calls to your office ring simultaneously on your mobile or home phone so calls are never missed, even when out of the office.
Messaging, conferencing, and more – Automatically receive notification and listen to voice messages when out of the office. Quickly set up conference calls with up to 64 people to enable cost-effective collaboration.
Automated Attendant – Customize caller greetings so key clients receive a personal message and are routed directly to the most appropriate person or team.
Dial By Name – Callers can easily identify who they want to connect with by simply spelling that person's name on their phone keypad.
Choose your connection – Essential Edition – PARTNER Version supports analog lines,
PRI/T1; and newer IP-base technologies such as SIP (Session Initiation Protocol) trunking, which can provide significant cost savings.
Avaya IP Office - Essential Edition Benefits
Better customer service – Through touch tone prompts, quickly route customers to the right department for fast, personalized customer experiences
Lower costs – Select the connection technology that best suits your business, including Internet Protocol-based solutions such as SIP trunking that can save as much as 50% off monthly calling fees (results vary by area and service provider)
Investment protection – invest in Avaya IP Office Essential Edition – PARTNER Version now and know that you'll have a office telephone system that will grow with you – in capacities and capabilities – as your business takes off. 
We are Always Ready to Assist Our Clients
Training and Installation