Voice and Data Cabling Options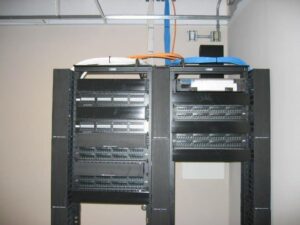 Small to medium businesses are constantly searching for ways to save time and money. In addition to office telelphone systems and Polycom video conferencing and LifeSize video conferencing, we can help with our economical infrastructure cabling options. Need to add a fax machine, network printer, or postage machine? No problem. Prime Line can quickly and easily connect you. From 1 to 250 cables, we make sure your business is cabled to meet and exceed your needs.
Voice and Data Cabling Mobility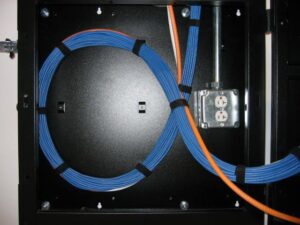 In many small to medium sized offices, folks move around on a constant basis. Prime Line can help with relocating telephones and computers as needed. If your office space is limited, and you need to utilize cubicles, we can quickly and easily install all cabling necessary to get your staff up and running. Utilizing a power pole that extends into the ceiling or accessing from an adjoining wall are common ways to install this type of cabling.
Voice and Data Fiber Optic Cabling
Typically, in a small business, all cabling is installed to one centralized communications closet. As your small business grows, you may need to add another communication closet. The closet may be within your same office building or it may be located in another building close by. In either scenario, Prime Line can install fiber optic and copper cabling to extend your network to the new closet. This cabling can be installed in the ground or overhead. Prime Line can install single and multi mode fiber optic cabling. Certification test results will be provided to the customer showing the performance of the fiber optic cabling.  When installing fiber optic cabling, copper feeder cabling, or 10+ computer and telephone cables, a Prime Line project manager will be assigned to your project. The project manager will make sure that the project is completed on time or ahead of schedule. Coordination with any other contractors involved also is a key responsibility. Prime Line project management gives you piece of mind that everything is taken care of!
Contact Prime Line Communications
for all of your voice and data cabling needs
Contact Prime Line Communications for all of your infrastructure cabling needs including office telephone systems, Polycom video conferencing and LifeSize video conferencing, computers, fax machines, and more.